15 Spring Fashion Trends to Shop Now
ecadmin
Looks like the days of lockdown are finally over. We are free to go to our workplaces, hit the gym, or enjoy a party. Since we'll be stepping out a lot now, one cannot overlook the importance of dressing up right for the season! You may already be brushing up on your online shopping list one last time before you stock up your spring wardrobe, and we know the excitement.
Considering how much we all are amped up to dress up, here's a little help from us to you. We have compiled a list of the top 15 spring fashion trends of 2022 that you can ABSOLUTELY not miss out on!
From cuts to colors to accessories, we have covered it all for you to simply order online.
The Styles
First, let's talk about the most trending styles of spring 2022 that you're going to see a lot. The good news is that there's something or the other to suit almost every fashionista's tastebuds this year.
Slippery Slips
One can simply not go wrong with slip dresses! By now, you must have owned at least one slip dress to flaunt during the spring. If not, you can hop on the bandwagon this year and make this casual yet classic piece a part of your spring wardrobe. Further down this blog, we'll also tell you about the trending colors for spring 2022 to help you select a slip dress.
Fantastic Fringes
Fringes became a big hit during the winters last year. Uplifting any ordinary dress and transforming it into a runway piece, fringes are a clever idea from designers Madeline Vionette and Charles Worth. This year in spring, shop for maxis, crop-tops, or button-downs with fringes and get ready to slay it.
Cutesy Crochet
Not just for the aunts anymore! Crochet is becoming increasingly popular amongst fashionistas in spring 2022. Whether you're a casual tee fan or love to buy women's clothes with an added feminine touch, crochets have you covered. Tops, skirts, dresses, sweaters, and even gowns are now available in crochet for you to try on.
Puff it Up
The 60s are meeting 2022 with this puffed sleeves trend. If you want to opt for a casual look at work, buying a puffed sleeves, button-down is ideal for you. Headed to a birthday party? How about a white mini skirt with a puff sleeve tank top? You can be as versatile with this fusion cut as you like!
Flowy Floral
Florals are always a hit during the spring. This time it's no different, as many fashion designers introduced flowy floral dresses to amp up the spring vibe. Go big on the floral prints and add a silhouette to your wardrobe for a comfy piece.
Minis and More
If you have been a fan of miniskirts, this is your time to shine! 2022 spring will see a lot of minis with newer cuts, patterns, and twee-tops. Don't miss out on the chance to buy clothes that scream you! If you're ready to rock the spring look, minis are in for good.
Broad or Baggy
But if you're wary of minis, baggy jeans with broad cuts are here for your rescue. Another bottoms trend that's going to be popular this spring is loose pants and baggy jeans. The wide pant is meant to always keep you ready, no matter where you're headed.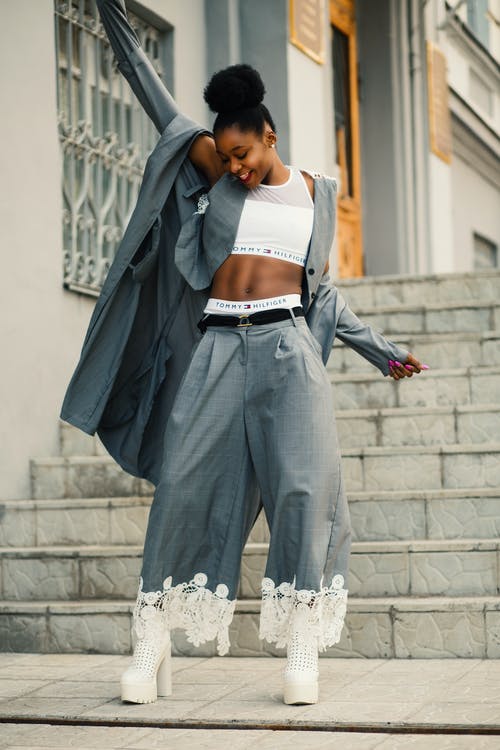 The Colors
Moving on, here are some of the popular colors and patterns that we'll see a lot during the spring.
Bolder
Bigger floral prints, neon colors, and a notch extra of everything is going to make sense in this year's spring.
Brighter
Bored of the pastels and neutrals of 2021? It's time to pop up with the brighter shades of pink, lime green, purple, and yellow. Brighter colors are a big win for the spring 2022 fashion as most designers showcased tones of neon in a variety of cuts.
Geometrics
If you're not a fan of florals, geometrics and stripes have you covered! Online shopping sites are full of tops with geometric prints for those willing to embrace.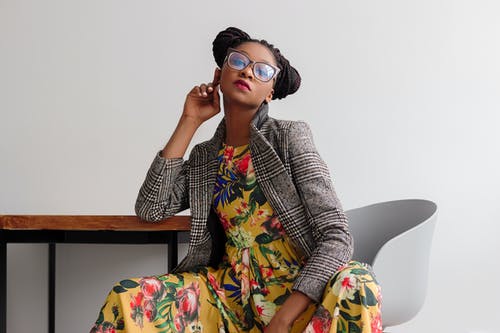 The Accessories
Lastly, here's how you'll accessorize your spring look!
Go Big with the Bags
Ditch the cute mini bags as you need to make room for extra-large totes. Big bags are going to be all over the spring 2022 fashion trends. Spacious, bold, and a great way to complement your spring cuts, bigger bags are all the rave.
Or Cross it Over
Have a crossbody bag that you can't stop adoring? Take it out to accessorize your crochet dress and head out in full style.
Hop on the Platforms
Feminine sleek or gutsy broad, whatever your pick is platform heels are going to be a major trend for spring 2022. While there are several designs to choose from, we suggest you go with the comfiest one!
Easy Breezy Sandals
Or if you want to keep it simple, buy a sandal. Versatile, casual, and good to go with any dress, at any time of the day. Sandals are best for the spring vibe as they will allow you to enjoy the fresh air and look chic at the same time!
Make a Statement
When it comes to jewelry, making a statement is crucial for fashionistas. If you want to take your style a notch up this spring, opt for statement jewelry available at some of the best online shopping sites.
Gear Up for the Spring
Drooling over the spring fashion trends and want to fill up your wardrobe? We at Dollie Wrinkle have some of the latest fashion pieces for you t   order online. Head over to our website to buy clothes for women right away and set your wardrobe for spring 2022.
You can also buy zzzzzze-books online or sell your products at our leading e-commerce store! Contact here to know more.