Crochet Clothes: Not Just ForGrannies
ecadmin
Did you know that there are as many as 36 million posts about crochet on Instagram? Similarly, the #crochet hashtag has garnered over 3.7 billion views on TikTok. All this goes out to show the rapid revival of the crochet trend that has wooed millennials in full swing!
So if you're about to order clothes online, make sure to check out the crochet range. Tops, dresses, skirts, and even crochet bags are now up for sale. Retro, charming, and vibrant, the grandma clothing is making its way to mainstream fashion. Not sure about it? Read this blog.
What is Crochet?
Crocheting goes back to 18th century India, North Africa, and Persia. It's said to be the year 1824 when the first crochet print, popularly known as granny's square, was first seen. Woven through a Chinese needlework technique, crocheting is a knitting technique that uses wool to create patterns and clothing.
Earlier used for quilting, crochet quickly became popular for clothing items such as ponchos, shawls, and sweaters. But that was yesteryear! Today you'll find crochet dresses, tank tops, skirts, and much, much more.
Who is Wearing Crochet?
If you haven't spotted it already, celebrities like Gigi Hadid, Mindy Kailing, Olivia Palermo, and Sophia Viagra have all recently flaunted crochet dresses. And if you're more of a DIY person than buying clothes, Meryl Streep is an inspiration for crochet makers!
Who is Selling Crochet?
Practically every shopping website sells crochet clothing these days. Big brands like Zara, H&M, and Missoni also make crochet clothes and bags to cater to the huge demand. If you want to make some extra bugs, now is the time to learn crochet and sell online.
Here's Why You Should Buy Crochet
Let's hold that thought of making drool-worthy crochet dresses and pin it for later. First, let's look at why everyone's going gaga over crochet and why you should attempt it too!
Crochet is Unique
Because crochet clothing is mostly handmade (not accounting for mass production here), crochet pieces are unique. There's a high probability that the crochet miniskirt you order from a women's clothing site is the only piece made by a manufacturer. Hence, there's next to no chance that a friend or family member will have the same article of clothing as you.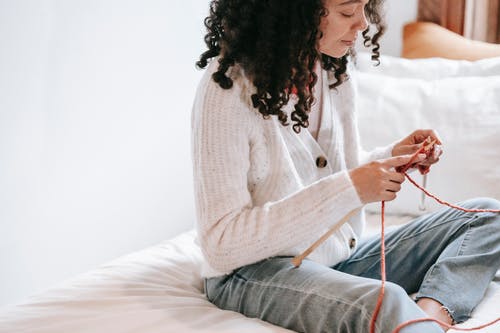 Crochet is Timeless
From the 19th century till today, we have seen crochet all around us. Table throws, cushion covers, mittens, boots, dresses, crochet have been in fashion one way or another. So if you're someone who likes to invest in a long-term fashion, then crochet is a timeless piece for your wardrobe. Flaunt it anywhere, anytime, for as long as you like.
Crochet is Sustainable
Because it's handmade and timeless, crochet clothing is a sustainable method of producing clothes. You won't be buying an environmentally unfriendly product, nor will you be throwing it away anytime soon. If you adhere to eco-friendly practices in your clothing, crochet is your next big thing.
Crochet is Personalized
Thinking to give a gift to someone? Crochet clothing is ideal as a gift too. No matter whether you opt for a crochet shirt piece or a crochet bag, you have plenty of gift choices with crochet. Head over to a good website for clothes and find a gender-neutral crochet gift.
Crochet is Cute
Chic, warm, and rustic. Crochet is a retro design element that's been in fashion for as long as mankind has known fashion. From baby mittens to tote bags, crochet looks wonderful on everyone. If you want to up your style this summer, be bold with crochet in every possible way!
Tempted to Try Crochet?
If you are tempted to try crochet clothing, why not make some too? You can also make crochet products to sell online. Here are some of the great reasons why you should try your hands at crochet making.
It's Therapeutic
If Meryl Streep is crocheting and teaching Amy Adams, there must be something good about it, right? Crochet is said to have therapeutic effects on individuals as it improves concentration, hand-eye coordination, and mindfulness. If you want to do something relaxing, try crocheting.
It's An Accomplishment
Materializing an idea is one of the most rewarding feelings in the world. As you spend hours and hours making crochet pieces, you envision the final product too. Seeing the finished product in your hand boosts your self-esteem and makes you feel accomplished.
It's Creative
If you're having a hard time streamlining your thoughts, start crocheting. It's a creative activity that helps you unleash your mind's capabilities and think outside the box. The patterns, the movements, and the designs allow you to wander off in limitless possibilities of your imagination. Alongside, crocheting has many surprising health benefits too!
It Can Be Monetized
Even sports celebrities are crocheting in their free time! This goes out to show the gigantic industry crocheting is making and its fast-growing demand. If you want to benefit from one of the biggest fashion trends of 2022, learn crocheting from YouTube tutorials. You can easily sell products online, and crochet is one great product to start with!
It's Trendy
Just like every other thing in fashion, crochet is a retro trend that's on the rise. Going forward, we expect to see crochet clothes and accessories becoming a part of pop culture. From celebrities like Gigi Hadid to brands like Zara, everyone's already on the bandwagon. Maybe, it's time for you to hop on the trend one way or the other.
Buying or Selling Crochet?
Whether you want to sell crochet or buy clothes for women in crochet material, we at Dollie Wrinkle have you covered. We have the most amazing crochet designs available that you can order online. And if you have learned crocheting, then you can put up your best items to sell online at our e-commerce platform.
Head over to our website today to buy and sell crochet products. We also have a wide range of e-books, shoes, and handbags that you can buy for yourself or your loved ones. Contact us to know more.